Prüfer:
Jun.-Prof.Dr.-Ing. Maria Matheou
Lehrpersonen:
Jun.-Prof.Dr.-Ing. Maria Matheou
Dipl. Arch. Moon Young Jeong
Module
Entwurf Bachelor: Modulnummer: 67730
Entwurf Master: Modulnummer: 79350
Seminar Bachelor: Modulnummer: 49441
Seminar Master: Modulnummer: 48341
Lehrinhalt
The construction industry is responsible for 40% of global energy consumption. The urban climate is substantially influenced by buildings, so it is important for buildings to be designed in a way that maximizes energy efficiency and user comfort. In this regard, Adaptive Kinetic Facades (AKF) have great potential to reduce the energy load required to maintain a comfortable indoor environment by responding to external conditions.
For preliminary research, students will study existing kinetic facades and share their findings. Students will be provided with a modular kinetic façade typology, developed based on ongoing research, as a starting point for a daylighting simulation exercise. Students are expected to understand the need for AKF by comparing the performance of static façades with that of AKF using Climate Studio, software (Rhino/GH plug-in) that analyses environmental performances in architecture. As students alter geometric parameters, such as shape, arrangement, and size, they will be able to gain a deeper understanding of the subject.
Based on the knowledge gained from the previous sessions, the final assignment will be to design and prototype a modular AKF that can be reconfigured as needed. Students are encouraged to play with different physical mechanisms by creating prototypes, such as actuators, gears, levers, and springs. Additionally, students can also consider combinations of one or more of the following parameters as design drivers: locality, HVAC (heating, ventilation, and air conditioning), building use, sound, and aesthetics.
Organisation
The purpose of an integrated architectural design studio is to introduce the students to design thinking as a key pedagogical method to find innovative solutions for complex challenges. In this design studio, the focus revolves around adaptive kinetic facades that respond to environmental conditions and user needs. At the beginning of every design studio, all the students get an introduction to the studio culture. Specifically, the studio culture is about encouraging students to work together; to help understand and solve problems and bounce ideas around. Moreover, we foster active learning in all of our classrooms as a central element of our pedagogy and we always ensure that our lessons (design studio and seminars) involve multiple learning modalities so that students can experience different learning styles, be more interactive/participative as well as emphasize the unique skills of each student.
The learning/assessment tasks of this design studio and seminar are as follows:
Assessment
Midterm Presentations (2x)
In-class activities and quizzes
Participation
Final Presentation (design studio) / Final Report (Seminar)
Additional notes
The course will require you to work as a group (2-3 people per group)
Bachelor-Master students are encouraged to work together
Unless otherwise noted, the course will be conducted in person
The official communication channels will be 'ILIAS' and 'Webex teams'
Rhino knowledge is a prerequisite
Open to taking a Bachelor's Thesis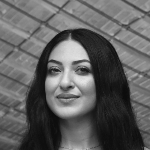 Maria Matheou
Jun.-Prof.Dr.-Ing.
Entwerfen kinetischer Fassaden