In this research project, a functionally graded concrete (FGC) building system will be developed that is resource efficient regarding load-bearing capacity under the consideration of requirements specific to multi-storey buildings.
Methods for design and production of concrete structures that fulfil their functions with minimum material used will be developed by synthesizing knowledge in the fields of materials science, structural engineering and production processes. The work will include the conceptual development of FGC building system and the evaluation of its overall performance for load transfer and building physics. Methods for the optimization of components interior, optimized load-adapted joints and the integration of reinforcement will be developed regarding fabrication processes, logistics, and construction tolerances. Components will be produced and tested throughout the project to evaluate their load-bearing behavior as well as their building physics performance. The flexibility of the system will be evaluated on the design and production of the demonstrator building.
The development will include design methods, structural systems, building services and building physics as well as joint systems in tight cooperation with cyber-physical fabrication of functionally graded concrete, co-design of multi-storey timber buildings, onsite cyber-physical construction platforms and robotic platform for cyber-physical assembly as well as holistic quality model.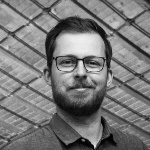 Oliver Gericke
Dipl.-Ing.
Research Assistant